THE MEANING OF LIFE
" Dacã dragoste  nu e , nimic nu e…" – Marin Preda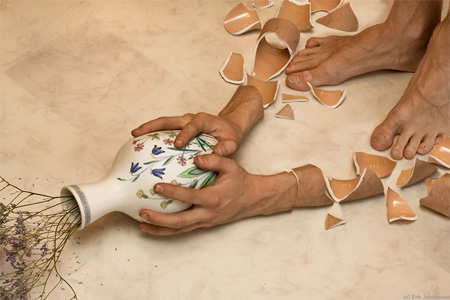 Photo Courtesy: Erik JOHANSSON  – Sweden
 ==============================
Traditional – si  in America de azi de asemenea

– lucrul = the thing s-a aflat in  centrul existentei.
Americanii au fost , de departe , cei mai performanti in acest domeniu si asta i-a costat enorm in toate celelalte
planuri – nepragmatice  – ale  vietii , reduse asimptomatic  dar ferm la falsuri  profund dezumanizante :
flori de plastic,
femei de plastic , suflete de plastic…
Poate cea mai semnificativã consecintã a promovarii desantate a unui pragmatism neatenuat o constituie
 de-spiritualizarea  sistematicã – premisã devastatoare pt. autenticitatea  fiintei / fiintarii,
prefatându-se  astfel 

robotizarea  ( programatã, generalizatã ) a societãtii 

=

plastic society.
Dansul robotilor – Courtesy ZV-ro
===============================================
Cititi cu atentie pasajul urmãtor  – un semnal de alarmã  lucid datorat unei americance autentice – Marianne WILLIAMSON :
     

 " We were taught that  things like  grades, money, doing things the right way, are more important than love.
Love  is the essential existential  fact. It is our ultimate reality and our purpose on earth. 

Is the meaning of life.

"
Attention

: pledoaria  intru totul justificatã a Mariannei pt.

love 

nu trebuie  abordatã reductionist ( sexist  ) :

love in broad

sense  se impune progresiv ca o cerintã  sine qua non pt. societatea contemporanã , devitalizatã,sterilizatã ,

subordonatã neconditionat  profitului ( maxim ! ) /computerelor / robotilor

. Spre exemplu , in timpul vizitelor recente  in România am constatat cu  disperare , repet :

cu disperare

, diminuarea (vanishing ) aproape generalizatã a

dragostei de tarã

...

Care tarã??