LUCIE REDIVIVA !
Lucie Safarova – Samantha Stosur  ; 3-6,6-1!, 6-4
Courtesy:
vavel.com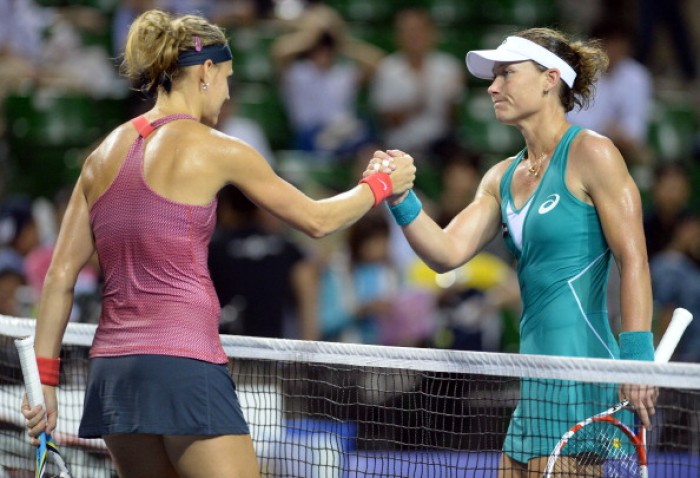 Invingand-o pe SS , Lucie  castiga, la Praga ,  cel de al 7-lea titlu WTA din cariera , dar, atentie , aceasta performanta  vine greu, f.greu dupa nu mai putin de 14 luni (  rastimp in care LS  a suportat consecintele devastatoare ale unei infectii bacteriene ).

Lucie : " It was a big fight.It's always tough  against her. I was waiting  for my chance and it came in the second set  ( 6-1 ! )"
Ca de obicei ,  vom celebra impreunã  aceastã reusitã ( in care, sincer , eu nu mai speram )   invitându-i la  sãrbãtoarea noastrã  pe
D.Shostakovich cu al sãu unic 
                   

               " The Second Waltz "
in interpretarea ( unicã si ea ) a  lui Demis Roussos.
=========================================================
PS 

pt. Lucie ( si nu numai ):
Ca biochimist ( specializat in metabolismul  mineral) vreau sa atrag atentia asupra unui fapt trecut usor cu vederea de majoritatea sportivilor :
coffeine este un puternic  antagonist al  Calcium in stare activa = ionica (  sub forma de Ca 2+ ) : coffeine ↑  →  Ca 2+ ↓
   Cand  acest Ca 2+ este normal  el asigura  optimum de imunitate . Problema e insa  ca , in cazul  consumului de coffee , ciocolata, cola  ,
excesul de coffeine 

duce  ionii de calciu la un minim periculos , facand

posibila ( chiar f. probabila! ) infectia  viral – bacteriana.

Este acesta cazul lui Lucie? Ea ne poate spune. Durata excesiva a revenirii  imunitatii la normalitate  sugereaza ca Lucie  a continuat sa consume  coffeine  si …in timpul  tratamentului ( altfel , eu fac aceasta normalizare in 7 -14 zile ).

Take care!