Beyond …COMPUTERS : STRESS and MEDITATION. Invitatie la echilibru
Meditatia tine sub control stress-ul !
                                                     "Everyone had always known that stress kills."
                                                                              Dr. Malcolm KENDRICK  (2007 )
Courtesy : youtube.com
Putini  contemporani  constientizeaza  cu adevarat ca stress-ul ( in toate variantele sale  ) constituie
principala cauza a bolilor cronice , in particular a bolilor de inima. In cele ce urmeaza mi-am propus sa
aduc in atentia cititorilor  blogului New-Holism  cateva
opinii actuale simple dar  deosebit de sugestive  despre stress  si meditatie 
apartinand unor autori remarcabili . Spre deosebire de unele optiuni  curente aici in America ( si nu numai  ), potrivit
carora  posesia  permanenta a unui...gun ultimul tip , ar asigura o securitate / confidenta  personala  minimala, 
eu am convingerea cã
        o meditatie de câteva minute zilnic ar fi incomparabil mai  performantã
dpv al

calitatii articularii  noastre in  mecanismul complex al vietii sociale contemporane.
Bineinteles ca am 

imaginat / realizat acest

controversial post

cu gândul la  campania
prezidentiala a Americii, aflatã in plinã

desfãsurare, in mod special  la prestatia
sui generis a lui Donald TRUMP.
Daca viata ne-ar aduce  la "

o cafea in doi "

principala mea sugestie  pt. candidatul republican  ar fi aceasta :
" Donald , undoubtedly you are a  unique personality. In acest " unusual electoral context " ( descris de cineva in paginile

Mail Online

in termenii urmãtori

" This election  is not boring , that's for sure "

)  nu crezi ca ar trebui  reconsiderata  ponderea mutuala dintre

factorii extrinseci

  si cei intrinseci in politica americana ,
in sensul amplificarii  semnificative a  rolului primordial al resurselor  sufletesti cu adevarat balancing

= going  much  beyond ( deeper than ) our traditional mind (

computerized = soulless !

), a  mind centratã pe o 

logica de o esentã Cartesianã, conflictual – eliminatorie  de tipul  either / or

? In other words :
Ar fi salvat oare viata lui  Boris Nemtzov  un gun aflat in permanenta in buzunarul  acestuia ?   Dar un exercitiu meditativ

de cca 5 minute zilnic

  practicat cu consecventã atât de victimã cât mai cu seamã  de asasinii insisi ? "

=======================================
Stephen LEVINE :
   "
Nothing will do for us what a daily meditation practice will do

. It's not the only way in, but

it is a profound access that allows us to go beyond the mind to our true nature

. It could simply be said that meditation is just an intensification of awareness. And

when there is awareness, there is healing. Awareness of anger heals anger

in the sense that it gives anger an opportunity to float, and then we are better able to respond to it instead of having to react automatically to it.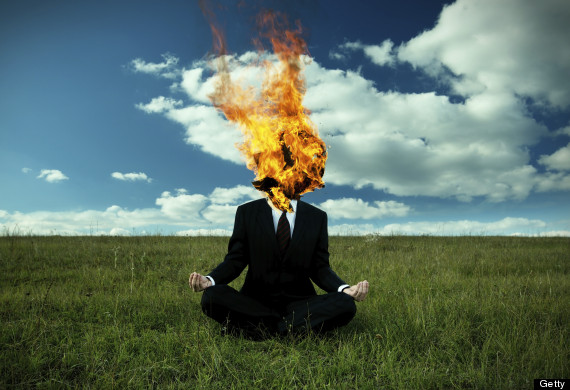 Courtesy: huffingtonpost.com               " Awareness of anger heals anger "

  In that sense, a meditation practice is invaluable for deepening the quality of awareness that allows the healing in. But
meditation isn't easy

. As you go in,

you see you aren't who you think you are

; often, we're confronted with the truth of our grasping, greediness, lustfulness, self-interest, and

general ignorance of ourselves and the world

. But

meditation allows truth to arise, and even if the truth is an unpleasant one for a moment, it is the truth.

It is beautiful and feeds us, energizes us, heals us.

Meditation takes us beyond the mind to who we really are, the shared heart of being. "
         ( From : Interview  St. LEVINE – Earle RALPH – The SUN – Selections from the Archives – 1989 )

Stephen LEVINE ( 1937-2016 )  Courtesy: newdimensions.org
2.  Leo BABAUTA :
"
The most important habit I've formed in the last 10 years of forming  habits  is
meditation.
Meditation has helped me to form  all my other habits , it's helped to become more peaceful, more focused, less worried about discomfort, more appreciative and attentive to everything in my life ."
                                (

"Meditation for Beginners "- 2016 ).
3. " Make a new friend. Join  a club. Find an area of life that you enjoy and can enjoy in   the company  of other people.

Praise other people and try to compliment  people more often.

..Look forward  to something enjoyable every day, every month and every year. " (  Dr. Malcolm KENDRICK – The Great Cholesterol Con -2007, p. 266 – John Blake  P.H. )
=======================
PS  Reproduc  aici replica " realista " la articolul de fata  a  unui prieten evanstonian ( totalmente anti – Trump ! )  care este 100 % convins ca el – si numai el – detine cheia  la dilema  :  stress ( anger, gun, aggressive mind / logic ) sau meditatie  ( activând sufletul / spiritualitatea , precum si  a friendly / cooperative  attitude ) :
   " Florin , ce este " sufletul " la urma urmei ? O umbrã , o entitate iluzorie  complicând in mod inutil realitatile concrete . Imi pare sincer rãu ca dupã 20 ani de America , nu  intelegi unul dintre principiile noastre intangibile :

ceea ce nu poate fi perceput sau mãsurat , simplu nu existã !

"